Pre Quali Rome 2023: the results of the first day. You can win a wild card for qualification
The results of the pre-qualification
Here we are. The pre-qualifications for the 80th edition of the Internazionali BNL d'Italia, the most attended tournament in the world, have reached the crucial stage. From today until May 5th, the players who have passed the Regional Open phase will take the stage at the Foro Italico.
The draws were drawn on Monday: two singles, one for men and one for women, at 32; and two double rooms, always for men and women, at 2. Each of the four tournaments features a wildcard qualifier.
Seeded in the men's No. 1, enjoying a bye in the first round, 24-year-old Giovanni Fonio from Novara, No. 304 in the world. Number 2 is Francesco Forti, number 357, who will make his debut against 29-year-old Federico Maccari, who qualified with a win on the Piedmont and Valle d'Aosta regional stage.
In the women's singles draw, the top three seeds will benefit from a first round bye: Dalila Spiteri, number 504 WTA; Cristiana Ferrando, number 556; and Aurora Zantedeschi, number 598.
Livescore PRE Quali – Click HERE
Start at 10
---
---
PIETRANGELI
Giorgio Tobacco vs (5) Potenza 60 62
(5) Delai vs. Ghirardato
Furlanetto vs. (3) Arnaboldi
Matteucci vs (6) Bauer
Valente-Urgesi versus Bona Zucchini
field 1
Jovine vs Trojan 46 63 62
Squarcialupi versus Catini
Roger against Church
Ciavarella vs guys
Capecchi-Fanucci versus Balzerani-Iliev
field 2
Calvano versus Gola 2-4 in progress
De Stefano against (4) zucchini
Maccari vs. (2) Strong
(7) Serafini vs. Pecci
Martina Giacalone vs La Vela Savoldi
field 3
(7) Rubini vs. Bertoldo 67 (5) 01 Rubies collection
(6) Tobacco vs. Solomon
Spigarelli versus Gandolfi
Tomasetto vs Sorrentino
Piangerelli-Catini versus Odorizzi-Ivaldo
field 4
Catini versus Baldoni 46 46
Floris against Grymalska
Valente vs (8) Rocchetti
Archdeacon against Visentin
Perfect Dessi versus Calvano De Giorgio
field 5
5incl. De Stefano zucchini versus Sabino Troiano
field 6
5incl. Catini-Noce versus Napolitano-Potenza
field 12
Turini versus Ricci 62 36 06
Rottoli against (8) Napolitano
La Vela versus Ocleppus
Modesti vs. Carbonaro
Stagno-Martellenghi vs. Giovine-Viviani
field 13
Di Nicola vs. Ingarao 26 46
(4) Piraino versus Capecchi
Mazza against Balzerani
Warriors against Roncalli
Ingarao-Massara vs Tobacco Tobacco
---
---
Today's program – it starts at 10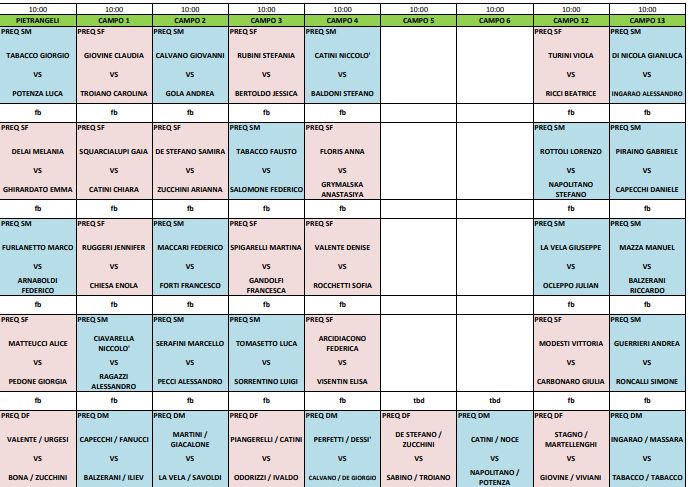 ---
---

Pre Quali Rome – Men's Board
(1) Fonio goodbye
Catini versus Baldoni
Calvano versus Gola
Tobacco vs. (5) Might
(4) Piraino versus Capecchi
Di Nicola vs. Ingarao
Guerrieriv's Roncalli
Rottoli against (8) Napolitano
(6) Tobacco vs. Solomon
Mazza against Balzerani
Ciavarella vs guys
Furlanetto vs. (3) Arnaboldi
(7) Serafini vs. Pecci
Tomasetto vs Sorrentino
La Vela versus Ocleppus
Maccari vs. (2) Strong
---
---

Pre Quali Rome – Women's Board
(1) Spiteri goodbye
Jovine vs Trojan
Archdeacon against Visentin
Valente vs (8) Rocchetti
(3) Zantedeshi bye
Modesti vs. Carbonaro
Roger against Church
Matteucci vs (6) Bauer
(7) Rubini vs. Bertoldo
Squarcialupi versus Catini
Turini versus Ricci
De Stefano against (4) zucchini
(5) Delai vs. Ghirardato
Floris against Grymalska
Spigarelli versus Gandolfi
(2) Ferrando Bye